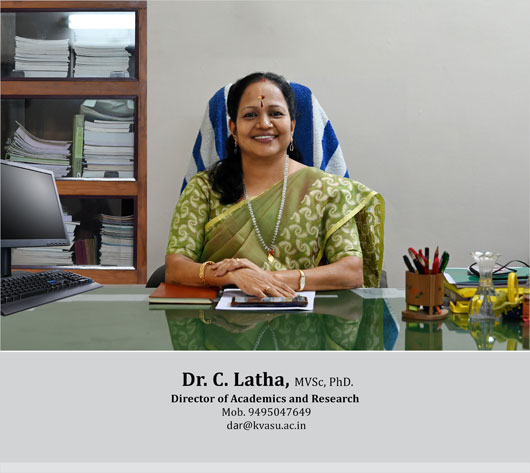 The Directorate of Academics and Research is headed by the Director of Academic and Research and is assisted by one Associate Director of Research with the office consisting of a Joint Registrar, one Deputy Registrar, three Assistant Registrars, three Section Officers, thirteen Section Assistants, one office superintendent and two Computer Assistants. There are separate sections for academics, research, exams and establishment. The charge of PA to the Director is managed by the Office superintendent. A separate wing under the Controller of Examinations is also functioning which is supported by the staff of Academic section of the Directorate.
The Directorate implements, supervises and monitors all academic activities including distance learning programmes of the University as well as the research programmes, and funding from the ICAR, NABARD-RIDF, RKVY, State Plan etc. A Monitoring and Evaluation Cell is constituted under the Directorate for the monitoring and evaluation of various projects undertaken by the faculty in the University.
There are separate sections managed by an Assistant for academics, research, exams and establishment under each section officer. The PA to the director is managed by the Office superintendent.
Units under the Directorate
Controller of Examination headed by the Controller of Examinations

Monitoring and Evaluation Cell headed by the Convenor
Major Activities of the Directorate
Academic Activities
Conduct of different Academic Programmes for UG/PG/PhD and other Courses

Conduct of admission to courses

Grant of different scholarships and Assistantships

Issue of certificates and conduct of convocation

Conduct of Academic Council meetings
Research Activities
Implementation of State Plan/Various External Aided Projects

Publication of Journal of Veterinary and Animal Sciences, Research Report, Research Digest, ICAR annual report of Development Grant and ICAR annual Impact Assessment Report of Library Strengthening, Guidelines to avert Research Misconduct and Snippets of Research Highlights etc

Implementation of running contract for procuring lab chemicals etc for the stations under the University

NABL Accreditation and Patent related activities

Conduct of Research Council Meetings
Achievements
A. RIDF project: Referral, analytical and diagnostic laboratory for supporting livestock farming and diagnosis of zoonotic diseases, Mannuthy (Sanctioned in 2020-21)
B. ICAR NAHEP project: Institutional capacity building leading to accreditation of College of Avian Sciences and Management, Thiruvazhamkunnu (Sanctioned in 2020-21)
RTI
Public Information Officer Directorate of Academics & Research Kerala Veterinary & Animal Sciences University Pookode, Wayanad – 673 576
List of Previous Directors and their tenure in the Office
| Name of the Officer | Tenure in the office |
| --- | --- |
| Dr. A. Jalaludeen | 19-1-2011 to 09-03-2013 |
| Dr. M. R. Saseendranath | 10-03-2013 to 11-09-2014 |
| Dr. K. Devada | 12-09-2014 to 11-09-2017 |
| Dr. N. Ashok | 11-09-2017 to 30-09-2019 |
| Dr. Ajith Jacob George | 01-10-2019 to 29-12-2020 |
| Dr. N. Ashok | 29-12-2020 to 23.04.2022 |
| Dr. C. Latha | 23.04.2022 to continuing |
Any information to be mentioned in the web page than those mentioned above
1. Under the leadership of the Directorate the University received Chancellor's award for the best emerging University consecutively for 3years (2017, 2018 and 2019).
2. The University received the 2nd best University for the highest number of ICAR PG scholarships in Veterinary Science in 2020.
3. ICAR PG entrance examination 2021- The students of the University bagged the high ranks of 1st, 2nd, 3rd, 4th, 6th, 7th, 8th, 11th, 15th under Veterinary Science Category, 5th, 6th, 10th, 17th raks in Animal Science category and 8th rank in Biochemistry and Biotechnology in addition to other ranks.
4. The University received first rank for the highest number of ICAR PG Scholarship in Veterinary Science in 2021.
5. The ICAR has granted renewal of accreditation for 5 years from 28.03.2021.