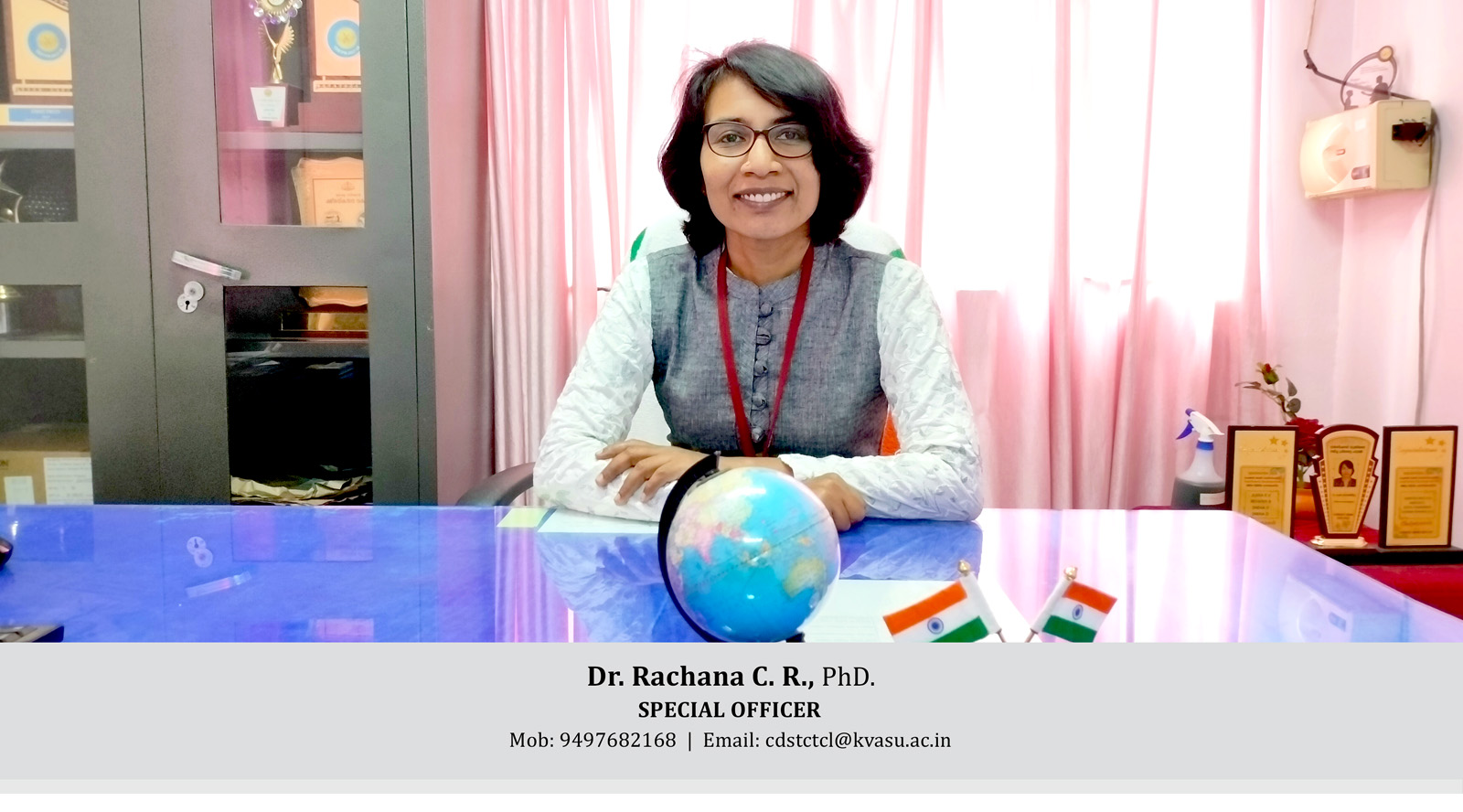 Dairy Technology offers a promising option for value addition and resource mobilization in terms of availability of dairy products for consumers and increased returns at the producer and the processor level. Indian dairy sector is generating new jobs to the tune of one lakh every year. There is immense scope for this industry to grow further in view of the globalization and increasing purchasing power of consumers. The dairy processing industry is in dire need of highly skilled and trained manpower across different levels to handle various operations. This scenario will definitely boost up the requirement of Dairy professionals in India. The Dairy Technology education programmes were initiated, aimed at providing professionally qualified man power to manage dairy plants efficiently besides facilitating training and man power development.
Keeping in view of the huge gap between supply and demand of qualified dairy professionals, Government of Kerala and the Kerala Veterinary and Animal Sciences University (KVASU) headquartered at Pookode in Wayanad district decided to start a College of Dairy Science and Technology at Thiruvananthapuram district offering 4-year B.Tech programme in Dairy Science & Technology from the academic year 2015-16 onwards with current intake capacity of 20 students at its temporary campus, BSNL - RTTC, Kaimanam, Thiruvananthapuram. The college follows the curriculum and guidelines prescribed by the Indian Council for Agricultural Research (I.C.A.R) for B.Tech (Dairy Technology) programme.
Admission

The candidates are selected through the Common Engineering Entrance Examination conducted by Government of Kerala. The candidates who have passed the qualifying Higher Secondary Examination, Kerala or examinations recognized as equivalent thereto, with 50% marks in Mathematics separately, and 50% marks in Mathematics, Physics and Chemistry put together are eligible for admission.
Pedagogy

The B.Tech programme is offered in eight semesters with total credits apportioned to Dairy Technology, Dairy Engineering, Dairy Microbiology, Dairy Chemistry, Dairy Business Management and Dairy Husbandry disciplines with due weightage for each. The curriculum is designed in such a way that all students get exposed to the entire gamut of operations taking place in professionally managed dairy processing units, to help them to acquire the required skills set and confidence to work as highly motivated professionals. 'Hands-on-training cum Experiential Learning Programme' during the seventh semester of B.Tech programme is intended to enrich the students with entrepreneurial qualities to start industrial units on their own. The last semester of the B.Tech programme is set apart for the Internship. The Internship is organized in dairy farms for a period of 35 days and in commercial dairy plants for a period of 70 days. This programme provides every student, the required practical exposure in scientific management of organized dairy farms and also in the operation, maintenance and management of large scale commercial dairy processing units like Amul, Schreiber Dynamix, Mother Dairy, Milma etc.
Study tours are an integral part of the B.Tech academic curriculum. An all Kerala tour and an all India tour are organized to facilitate the students to visit the most important Dairy and Food plants and other institutions across the county. Apart from these, study tours are also organized as part of the various courses during the course of study.
Life at CDST

Life at CDST is exciting with invigorating classes, assignments, practical sessions, presentations, seminars, industrial visits, study tours – the list goes on. In addition to academic activities, the college with a plethora of extracurricular activities provides the students various opportunities to develop their social, communication and managerial skills outside the classroom.
Co-curricular activities like Annual Arts' Festival and College Sports Meet, Student's Union activities, Exhibitions, Conferences, Seminars, Technical Meets, Debates, Quiz competitions, etc. are regularly organized aiming at the holistic development of student community. These events are a learning experience for them and enable them to discover and achieve their talents and potential. The college, apart from celebrating Republic Day and Independence Day every year, celebrates World Milk Day on the 1st of June for creating awareness among general public about the growing importance of milk and milk products. The college also takes a proactive role in organizing various other events like June 5th - Environment Day celebrations, October 16th - World Food Day, Commemoration of Dr. V. Kurien, the 'Father of White Revolution in India' on his Death anniversary, Onam, Christmas and New Year celebrations and many more.
The National Service Scheme (NSS) unit of the College takes all efforts to achieve the objectives laid out under the scheme. Various programmes are taken up under this scheme aimed to improve the social commitment of students and their personality development. The NSS volunteers took earnest steps to educate common people on the need of energy conservation, making campuses plastic free and keeping the surroundings clean.
CDST Parent-Teacher Association (CDSTPTA)

Parental co-operation is of utmost importance in creating a healthy campus atmosphere. The CDSTPTA, a statutorily elected body aspires for cooperation and participation of parents in full measure in the activities of the institution. The association is registered under the Travancore-Cochin Literary, Scientific and Charitable Societies Act, 1955. It takes an active role in supporting various student development initiatives at the college.
Address for Communication
Special Officer - Dr Rachana C R
College of Dairy Science and Technology
Kerala Veterinary and Animal Sciences University
BSNL - RTTC, Kaimanam, Thiruvananthapuram
Kerala, India -695040