Directorate of Entrepreneurship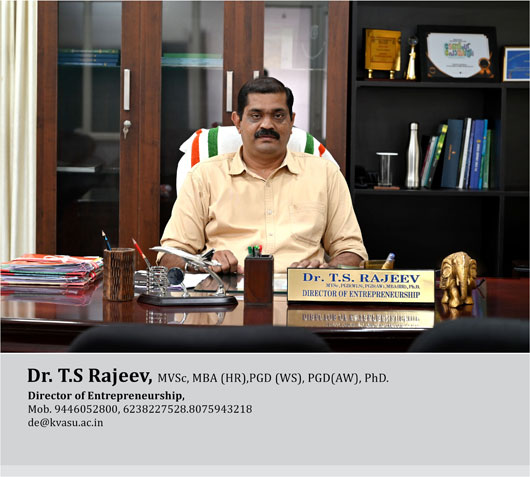 The Directorate of Entrepreneurship headed by the Director (Entrepreneurship) has Publications, Training, Entrepreneurship, Capacity building and knowledge transfer, Media and Informatics, Technology Enabled Distance Learning as major divisions. Directorate of Entrepreneurship with headquarters at Pookode, Wayanad focus on capacity building of farmers, entrepreneurs and extend services through outreach programmes, developing model farms, supporting self-help groups in improving production and productivity of livestock. This division also conducts need based researches in different fields, workshops, exhibitions and seminars on behalf of the University. The Publication Division coordinates the publication works of University publications. Technology enabled Distance Learning Centre coordinates the conduct of various distance learning courses of the University. The 24X7 Veterinary Services 'e- Vet connect' provides veterinary services and advisories to owners of large and small ruminants, pet animals in the State. The facilities for emergency veterinary services of experts even after normal working hours are provided. The Centre for Livestock Development and Policy Research undertakes policy research and capacity building. The Regional Research and Training Centre at Thiruvananthapuram act as an intermediary between the headquarters of the University and Government focusing on policy issues and trainings. The Academic Staff College of the University functioning under the directorate, focus on career advancement programmes of the faculty and other advanced training programmes.
The directorate launched the technology business incubation division in the Mannuthy campus during this year, with main focus on student entrepreneurship and startups. The Directorate of Students Welfare monitors the student welfare activities, coordination of NSS activities etc.
The Directorate plays a vital role in commercializing new ideas and raising productivity and employment in all sectors, specially benefitting the farming community. The University student-focused activities include the Student Entrepreneurship Scheme, educating students in cultivating a startup business idea, teaching them basic strategies like estimating costs and writing a project proposal / business plan etc. 20 percent attendance relaxation and 4 percent grace marks are provided for students who pursue entrepreneurship and innovation during their studies. The Entrepreneurship division gives major emphasis to entrepreneurship development, extension, knowledge dissemination, distance learning and awareness programmes.
Mission and mandate
To supervise and control extension education and entrepreneurship activities of the University
Plan and execute all extension programmes and entrepreneurship activities in close consultation and cooperation with Dean and Directors of different faculties under the University
To act as the principal liaison officer for dealing with stake holding agencies and departments with matters concerned with extension/entrepreneurship
Supervise the working of training and communication divisions dealing with publications, audio visual aids, leaflets and farm journals, social media and maintaining the website and all other outreach investments of the University for the benefit of the farming community
Formulate and plan policies and programmes concerned with extension and entrepreneurship and present to Extension Council
OFFICER / DIRECTOR
Dr. T S Rajeev
Director of Entrepreneurship
email: de@kvasu.ac.in
Phone: 04936 209280
Name, Designation, Photo and contact details of officer second in-line
Dr. Justin Davis, Associate Professor (Entrepreneurship)
04936-209288, 9447237868
justin@kvasu.ac.in
Dr. R. Senthilkumar, Professor (Training)
04872-376644, 8848037565
senthilkumar@kvasu.ac.in
Dr. Ajith K. S., Assistant Professor (Publication)
9447203151, 8848037565
ajithks@kvasu.ac.in
Dr. Deepa Ananth, Assistant Professor (TBIC)
9562775354
adeepa@kvasu.ac.in

Contact details of the office
Directorate of Entrepreneurship, Kerala Veterinary and Animal Sciences, University, Pookode, Wayanad, Kerala – 673 576, 04936-209285

Office Setup
Director
Associate Professor (Entrepreneurship)
Professor (Training)
Assistant Professor (Publication)
Assistant Professor (TBIC)
Assistant Registrar
Section Officer
Assistant
Computer Assistant
Class IV
Units under directorate
Publications
Training
Entrepreneurship
Media and informatics
Technology Enabled Distance Learning
Academic Staff College
Directorate of Students Welfare
Technology Business Incubation Centre
E Vet Connect
Activities of the directorate
1) TRAININGS
Organized and conducted the obligatory three months training programme for two batches of Assistant Directors of Animal Husbandry Department during July – September and November- December 2019.
Conducted three skill development trainings on Animal Birth Control for field veterinarians of Animal Husbandry Department , 30 participants each during from 22.7.2019 to 27.7.2019 and 5.8.2019 to10.8.2019
Organized a one day state level workshop ' Athijeevanam' jointly organised by AHD-KVASU-IVA on the theme ' sustainable development in the context of problems faced by farmers requiring interventions from University and AHD', considering the prevailing problems of climate change, flood and other disasters.
The three months obligatory training programme for Assistant Directors of Animal Husbandry Department was formally inaugurated by Dr. Joseph Mathew, Registrar, KVASU on 15th May 2018. Directorate of Entrepreneurship of KVASU is organizing the programme with support from Department of Animal husbandry. Taining session on 'Yoga and meditation' was imparted to the 10th and 12th students of Ekalavya Model Residential School , Pookode as part of Yoga Day Celeberations on 21st June 2018
The Directorate of Entrepreneurship has facilitated 2 days training on Milkobike developed by IDMC of NDDB. The project envisages self employment for milk technicians who would like to take up milking as part time job.A feasibility study has also been organized at Punnapra milk society and initial meeting has been convened at the society on 26th of June,2018..
Organized a session on Kerala Startup mission by Dr. Saji Gopinath, CEO, Kerala Startup Mission. The program was held on 17th May, 2018 at CV&AS Mannuthy. Dr. Saji Gopinath interacted with students at Pookode on 16th May 2018 and an interactive session was organized for the Additional Directors of AHD who are undergoing three months training programme.
Training on Report Writing and Data analysis for University faculty from 05-09-18 to 07-09-18 at IMG,Thiruvananthapuram
Conducted a workshop on Personal Excellence for the B.Tech students on 19.09.2018 at BSNL training centre, Kaimanam.
Conducted entrepreneurship development training programme for Kudumbasree beneficiaries of Muttil Panchayath, Wayanad on goat rearing to Athulya and Amala Units, poultry farming for Vandana kudumbasree Unit on 26th and 27th October 2018
A discussion was held at Mannuthy with Entrepreneur Mr. Prathik Thomas, Idukki on his project on starting a model dairy Farm using indigenous cattle on 07.01.2019
Attended meeting at Collector's Chamber on FOCUS WAYANAD, Wayanad on 18.01.2019
Participated in a discussion regarding animal purchase from Military farm on 21.01.2019
Director was one among the mentors for the Professional Student Summit (ASAP) held at Cochin University of Science & Technology, Kochi, on 10.02.2019
Training for two bathes of poultry entrepreneurs of Lakshadweep was conducted in January and February 2019
2) Interventions of University in flood affected areas in Wayanad and Thrissur
Three panchayaths of Wayanad district Pozhuthana, Vythiri and Kottathara were identified. Three camps were conducted ;Pozhuthana Panchayat on 05.09.2018, Vythiri Panchayath on 07.09.2018, Kottathara panchayath on 11.09.2018. Kits containing 25 kg bag of University produced concentrate feed, 1 kg mineral mixture, medicines, and milking/feeding utensils were distributed to 300 beneficiaries. Faculty, students, NSS volunteers of CV&AS Pookode participated in the camp.
Directorate initiated supply of needed items to the flood victims. An amount of Rs. 10500.00 (Ten thousand five hundred only ) was mobilized as donation from the University staff. Essential commodities like innerwears, sanitary napkins, buiscuits, dress, drinking water etc was supplied to relief camps at Model Residential School Pookode, Sugandigiri UP School and Amba school and Munderi school Kalpetta, Anjukunnu relief camp.
Materials contributed by individuals and NGOs, Pvt Companies and other voluntary organizations were routed to the deserving beneficiaries of various tribal colonies; Mukkottukunnu colony Padinjarathara, Payanamottakunnu tribal colony Kuppadithara, Varattiyalkunnu colony at Kuppadithara, Chalkarakunnu colony at Kurumbala, Chanalathukunnu colony Kuppadithara, Anapanthi colony of Odapallam, Chundappadi tribal colony of Moolankavu, Thamburattikunnu colony of Odapallam.
Visited flood relief camps in Puthur, Poovan chira, Peechi, Pattikkadu, Kannara and Government College, Kuttanelloor, Aasarikkadu, Marathakkara and Madakkathara and distributed food items on 15th and 16th August 2018. Done rescue operations in Vadakkanchery and Thrissur ( Daya Hospital).
Along with students union, collected money from staff of CVAS, Mannuthy and handed over dry provisions worth Rs.25,000/- at Mannuthy Police station for distribution in flood affected areas of Thrissur. Distributed blankets, undergarments and sanitary napkins in flood relief camps at Cherumkuzhy and Marathakkaraon 17th and 18th August 2018
Visited Thumburmuzhi farm of KVASU on 20th August 2018 which was seriously affected, where office and cattle sheds were damaged and around 35 cattle were buried under the soil due to landslide. Handed over 50kg rice, dry provisions and first aid kit collected by students union and NSS of CVAS, Mannuthy to labourers who were staying in camps due to flood. motivated labourers who witnessed the landslide.
Distributed cattle feed to farmers affected by flood at various parts of Nadathara Panchayat on 20thAugust 2018
Organized an event on the launch of "Pradhan Mantri Kisan Samman Nidhi", availaing participation of about 30 members on 24.02.2019
Participated in Chancellor Award distribution function at MG University on 07.03.2019
Visited CRPF Jawan Shri V V Vasanthkumar's house on 08.03.2019
Interacted with ICAR delegates during the visit to AICRP poultry at Mannuthy on 11.03.2019
Organised entrepreneurship development seminar in connection with inauguration of Technology Business Incubation Center at Mannuthy on 18.03.2019
Organised SMILE (Simple Management Innovations in Livestock Entrepreneurship), a entrepreneurship development seminar during 20th to 21st March 2019
3) Exhibitions/fairs
Arranged exhibition stall of University in Exhibition 'POOPPOLI-2020' the international Flower Show at RARS Ambalavayal from 01.01.2020 to 12.01.2020
KVASU established an Exhibition stall at VAIGA 2020 at Thrissur (04-07 Jan, 2020) highlighting the value addition of Livestock products and publications of KVASU.
Organised exhibition in connection with State level Panchayat Day Celebrations-2020, held during 17th February to 19th February 2020 at SKMJ School Ground, Kalpetta, Wayanad
Organised exhibition in connection with Malayala Manorama Karshakasree Karshikamela-2020 from at Palakkad from 22.01.2020 to 26.01.2020
Participated by arranging an exhibition stall for 'Dairy Expo -2020" at Thiruvananthapuram held during 24th to 28th February 2020
Arranged exhibition stall of University in connection with ''Talent Expo 2019 Science fair and Exhibition'' held on 11th October 2019 at WMO English Medium School, Meppadi
Participated in exhibition at Palakkad as part of Baroda Kissan Pakhvada & baroda Kisan Divas on 18th October 2019
Participated in the Higher studies expo DISHA 2019 at Govt. Higher Secondary School, Bella East, Kanjangad from 26.11.2019 to 1.12.2019.
Participated by arranging an exhibition stall for 'Quest 2019 Science Exhibition''., held during 5th to 7th December 2019 at Govt. Arts & Science College, Calicut
One-day workshop and expo Prebav-2018 was organized in view of supporting entrepreneurs, students, researchers, industries and banking in poultry sector. The exhibitions was conducted on 29 th and 30 th April 2018
KVASU participated in Thrissur pooram exhibition and bagged first prize under minor pavilion award in the thrissur pooram exhibition.
Participated in exhibition cum sales fair 'polika 2018' at SKMJ school ground, Kalpetta from 7th may to 13th may 2018 in connection with second anniversary celebrations of the ministry and the university stall bagged second prize among forty other stall of various govt. Departments.
Hon'ble Member of Parliament, Mr.C.N.Jayadevan inaugurated KVASU supported sales centre "Aranyakam" of startup village project at Cherpu on 8th June 2018.
Participated and set up an exhibition stall in connection with 'Green eggs and Pigs-2018, exhibition organized by Department of Animal Husbandry, Govt. of Kerala from 12th to 14th October 2018 at Mananthavady Social Service Campus, Erumatheruvu Mananthavady.
Participated in Disha ll, the Higher Studies Expo Organised by the Career Guidance and Adolescent Counseling Cell of the Directorate of Higher Secondary Education, Government of Kerala.
Participated in the Krishi Unnati Mela & Vaiga 2018- an international workshop and exhibition on agro processing and value addition organised by Depatrment of Agriculture Development and Farmers Welfare, Govt. of Kerala and coordinated by CPCRI, kasargode held at Thekkinkadu Maidan, Thrissur during 27th to 30th December 2018.
Participated and set up a stall in connection with exhibition 'Harithyanam' held at Thiruvambady during 27th to 29th December 2018
Organized exhibition stall in connection with Malayora maholsavam 2019 ' held at Mukkam during 19th to 27th January.
4) Outreach
Flood relief activities: Directorate of Entrepreneurship coordinated various flood relief activities initiated by the University in the worst hit areas in several districts of the state. As part of the programme "Unarvu", various animal health camps and relief camps for livestock and poultry farmers was conducted. University products viz., concentrate cattle feed, milk, eggs and fodder and essential items were distributed to affected farmers in Wayanad and Thrissur districts, during the month of August and September 2019.
Established 'Silky' Pet Spa for grooming of pet animals and training for dogs
Resumed the functioning of Technology Information and Sales counter at Pookode on 17th October 2019
Centre for rehabilitation of Stray Puppies under END (Early Neutering in Dogs) for providing training the veterinarians, animal welfare organizations and creation of awareness among public regarding the handling of dog population in a humane manner
Conducted medical health camp in tribal colonies Priyadarsini tribal colony colony on 24th April 2018, Chembatty of Vythiri Panchayath on 25.4.2018, Narangakandy tribal colony on 30th April 2018 as part of tribal development project. 160 members attended the camp.
Conducted medical health camp in Onivayal tribal colony on 25.5.2018. 19 members participated in the camp.
The directorate has incepted the Farm school at Meppayor Koilandy and inaugurated on 17th October 2018
5) Students activities
Inter collegiate games was held during 2nd to 4th November 2018 and athletics meet held during 9th to 11th November 2018 in all eight constituent colleges.
KVASU student participated in Innovation Entrepreneurship Development Centre summit of 'Kerala Startup mission 3.11.2018
Sales center of the University, under the student entrepreneurship programme is continuing function with various information and product delivery services
Students participated in the inter university chess competition during 4th to 6th December 2018.
Facilitated the participation of students in the National Students' Parliament, Kerala-2019 held from 23rd to 25th February 2019.
Photos of recent activities which could be highlighted
Achievements specific to the office, if any
1) Technology Business Incubation Centre
The project entitled "Developing technology Business incubation center at Kerala Veterinary and Animal Sciences University" is being implemented. The initial inception of the centre was done by Hon'ble vice chancellor of KVASU on 7th April 2018.
As part of TBIC, the sensitization workshops for the students on innovation and incubation was done at COVAS Pookode on 7th March and to students of CASM, Thiruvazhamkunnu on 29th April 2018 and at COVAS Mannuthy on 17th May. The mandate of the TBI was developed and approved by HOD's and farm heads and committee on startup panel of experts also constituted.
Student Startup group mentored and supported by TBIC of KVASU bagged 'Best Startup Idea' and the award was presented in National Startup Summit held at CCS Haryana Agricultural University, Hisar Haryana held during 1st – 2nd June 2018 at CCS Haryana Agricultural University, Hisar Haryana
2) Distance- Learning Centre - Ongoing Courses
Post Graduate Diploma in Dairy Entrepreneurship (PGDDE)
Post Graduate Diploma in Poultry Entrepreneurship (PGDPE)
Diploma in Dairy Entrepreneurship (DDE)
Diploma in Poultry Entrepreneurship (DPE)
Diploma in Commercial Dairying conducted at Kurryottumala Hi-tech Dairy farm
3) Publications
Published a text book " Colour atlas of hoof care in dairy cattle" with ISBN number
Books in Malayalam- University publications on various animal husbandry related topics for farmers- 20
Other publications, leaflets, folders
Windows – KVASU Newsletter
RTI: Director of Entrepreneurship
List of Previous Officer/ Directors and their tenure in the Office
| sl.no | Name | From | To |
| --- | --- | --- | --- |
| 1 | DR. RAMKUMAR S. | 07-6-2011 | 02-09-2014 |
| 2 | DR. T. P. SETHUMADHAVAN | 05-09-2014 | 02-09-2017 |
| 3 | DR. JOSEPH MATHEW | 17-09-2017 | 21-10-2018 |
| 4 | DR. M. K. NARAYANAN | 22-10-2018 | 26-04-2022 |
| 5 | DR. T.S. RAJEEV | 26-04-2022 | Continuing |